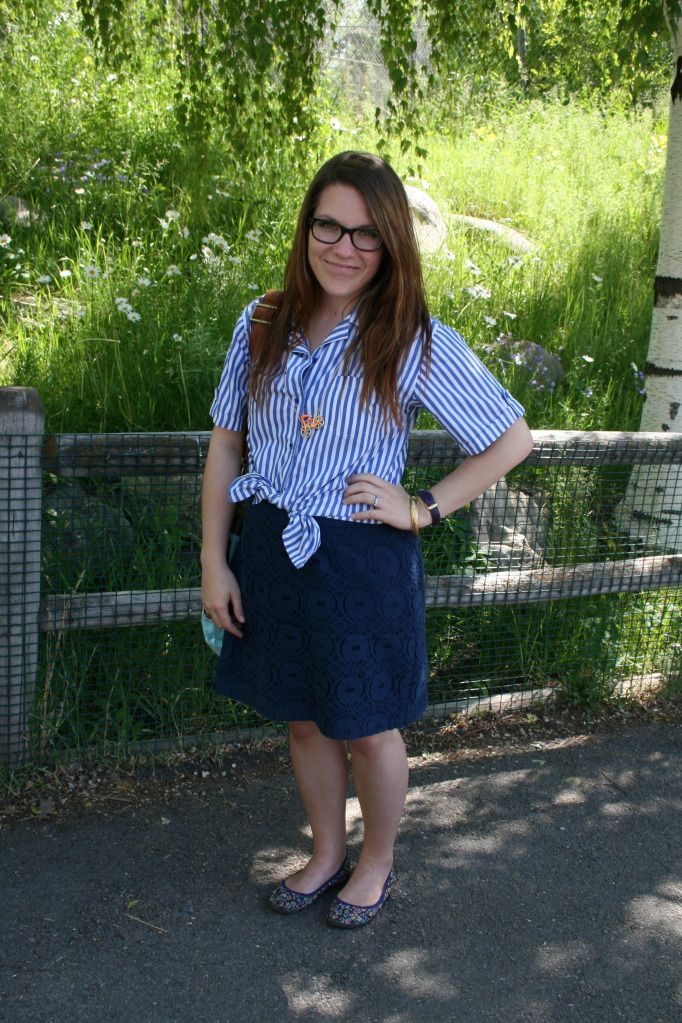 Skirt: Target, Shoes: GAP, Shirt: Thrifted, Necklace: Gift
My mom and sister came down to Utah this weekend to see
the play
and spend some time with Michael and I. We slept, we played games, we laughed, we watched Disney channel movies, we shopped, we ate, we basically lived it up. My Mom asked me to document the weekend, but I just couldn't. Some moments in life are just too good to ruin with a photo op. We went to the zoo yesterday and Michael snapped some photos. I have to admit he is getting pretty good at this whole photography thing.
My Mom bought fancy new car while she was here. It allows her phone to sync with the car and read text messages out loud. This was a key form of entertainment for us. Having named the robot voice Deborah, Michael would send text massages to my mom as if they were coming from the car. After we got finished eating at cheesecake factory Deborah the car said this, "Humans why didn't you bring me any cheesecake. I will now self destruct. 10, 9, 8, 7, 6, 5, 4, 3, 2, 1. Boom goes the dynamite."
They left this morning and I was super sad. As my sister was walking out the door she said, "Make sure to send the car funny text messages!" It is hard for a girl when her family lives a 14 hour car ride away!
(although I probably shouldn't complain since my husband is separated from his family by an ocean)
I think one of the best parts of the weekend was getting to see and spend some special time with my little sister. I left for college when she was 5 and now she is nine almost ten! How the time flies. Her and I are so much alike. I feel like out of all of our siblings we have the most in common which is weird because we really haven't grown up around each other. I guess that just goes to show how strong the bond of family is. We aren't just random people assigned to certain parents we are people that were destined to go through this journey of life together. And that my friends is awesome.